Afghan casualty's family: Channing lived life for the Army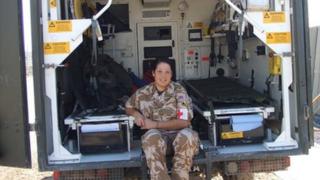 The woman soldier killed in Afghanistan on Wednesday was Corporal Channing Day, from Comber, County Down.
The medic, who was 25, served with 3 Medical Regiment. Her family has been informed. A Royal Marine commando died in the same incident.
She died from injuries after being attacked while on patrol in the Nahr-e Saraj district of Helmand Province.
Corporal Day's family said she "was bubbly, sporty, beautiful and lived her life for the Army".
Ms Day, a former student at Strangford College, was keen on sport and played football for a local team.
Paul Maxwell, principal of Strangford, said she had always been very good at sport and wanted a career in the army.
"I was really shocked. She left school nine years ago, but nine years is a very short time in the life of our school," he said.
"And because we are a school of 500 plus, every pupil is clear to us and I can remember Channing as if it were yesterday and therefore it becomes more poignant because somebody that we remember as being young, and is still young, is suddenly killed in such a tragic way.
"She was a great girl, she was really bubbly, bright, she was outgoing, enthusiastic, she had lots of friends she was just one of those genuinely really nice youngsters, she was extremely good at sport."
Also killed
The Ministry of Defence said Corporal Day and Royal Marine Corporal David O'Connor were fatally injured during an exchange of gunfire with an Afghan who is believed to have been a policeman, but who was not in uniform.
The Afghan, who had not been accompanying the patrol, was also killed.
The MoD said the UK patrol was "not working with any Afghan partners at the time".
"At this stage we do not know what initiated the exchange of gunfire and an investigation is ongoing," a spokesperson said.
A total of 435 British military personnel have been killed in Afghanistan since operations started in 2001.
In a statement, Corporal Day's family said: "Channing was bubbly, sporty, beautiful and lived her life for the Army.
"She has died doing what she lived for and in the life that she loved.
"She will be remembered by all who knew her as a wonderful girl who never stopped smiling and who had an infectious laugh."
'Team player'
Lieutenant Colonel Phillip de Rouffignac, Commanding Officer, 3 Medical Regiment said the County Down woman was "hugely popular with her friends in Preston, Catterick and in Afghanistan".
"Corporal Channing Day made the most of everything and had lived a lifetime in a short time.
"An Army footballer, she was a real team player in every sense. Corporal Day will be sorely missed, and the thoughts of all our regiment are with her family and friends at this difficult time."
First Minister Peter Robinson said: "It is with great regret and sadness that I have learned of the death of this young soldier who has tragically lost her life while trying to protect and save the lives of those around her.
"The incredible bravery displayed by our armed forces is immense and the risk they take on a daily basis can never be underestimated.
"Our thoughts and prayers are with her family, friends and colleagues who continue to give service to their country."
Ulster Unionist leader Mike Nesbitt said he had learned of the death with great "regret and much sadness".
"It is a reminder of the incredible bravery displayed by our armed forces as they risk their lives for our freedom," he said.
"The debt we owe them is one that can never be repaid.
"On behalf of my party, I would like to extend my deepest and sincerest sympathies to family, friends and colleagues of the fallen."
Corporal Day is survived by her parents, Leslie and Rosemary Day, her sisters, Lauren and Laken, and brother Aaron.