Attorney General John Larkin's abortion role under debate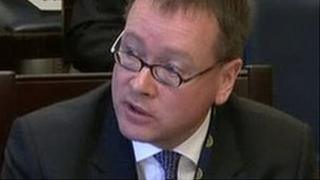 Attorney General John Larkin will assist in scrutiny of whether the Marie Stopes clinic is operating within the law on abortion in NI.
Paul Givan, DUP chair of the Stormont Justice Committee, said that as a minimum the attorney general would appear before the committee.
Whether the committee can go further by seeking additional help from Mr Larkin is under discussion.
Sinn Fein said Mr Larkin could assist "by offering no assistance".
The suggestion, made by committee deputy chair Raymond McCartney, remains a possibility.
Alliance's Stewart Dickson said the discussion of precisely how the attorney general should help was "inevitably coloured by the nature of the correspondence" he's already had with the committee, about which some members had concerns.
Mr Dickson suggested the committee should contact the health department to clarify how National Health Service hospitals remained within the law when carrying out exactly the same procedures as those offered by Marie Stopes.