Megan Fearon in NI assembly call for votes at 16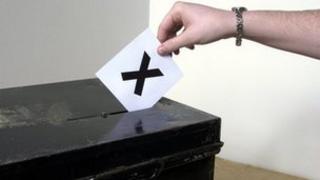 Sinn Fein MLA Megan Fearon is to propose a motion in the Northern Ireland Assembly calling for the voting age to be lowered to 16.
"Many young people are feeling disenfranchised from the electoral process even though at 16 young people are very politically aware and able to make informed choices," she said.
"It is important their voice is heard."
The motion will be proposed in conjunction with the Green party on 6 November.
"I will be calling on the Assembly to support a change to legislation that will empower young people with the right to vote," said Ms Fearon.
"This is already being supported through the EU in Written Declaration 27 that calls for the EU member states to lower the minimum voting age.
"Elected representatives across the board need to waken up and recognise the widening gap between themselves and the citizens, especially the younger generation, they represent."