Dilemma of Northern Ireland dementia victims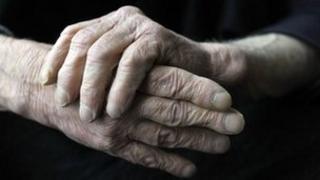 Many people with dementia in Northern Ireland are not dying where they would prefer, with their families unaware of their end-of-life wishes.
According to the Alzheimer's Society, many families are unaware of their loved ones wishes because of a double stigma around dementia and death.
The charity is calling for a greater awareness about planning end of life care.
Bernadine McCrory, of the Alzheimers Society said training was required.
"We really do need to raise awareness so that people with dementia do have their choices listened to and acted upon," she said.
"Out of this, we would hope there is increased awareness within families, within health care professionals and that there is certainly a level of training required for those people to be able to respond to the choices that people with dementia would want."