TV switchover help scheme runs out of HD digital boxes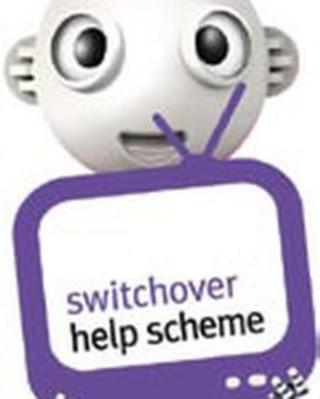 A scheme to help the elderly with the switchover to digital television has been inundated with requests for high definition set-top boxes.
The Switchover Help Scheme was set up to help older and disabled people with the change.
However, there has been an unexpectedly high number of requests for HD Freeview boxes in Northern Ireland.
The HD box can pick up RTE's digital service while the standard box will not.
A help scheme spokeswoman said the applications had continued right up to the switchover and this had affected appointment dates for people who are applying now.
"The Switchover Help Scheme is sorry that many customers in Northern Ireland are waiting for installations," the spokeswoman said.
"The Freeview HD box which gives access to RTE channels and TG4, has been even more popular than we expected and we ran out of stock in the summer."
'New supplies'
However, all was not entirely doom and gloom for those waiting to have their digital box installed.
"New supplies of the Freeview HD box arrive in the next two weeks and people with existing orders will start getting them shortly," the spokeswoman said.
"The Switchover Help Scheme is working very hard to install everyone's equipment as soon as we can and we are aiming to serve nearly everyone who has already applied by the end of the year."
The Republic of Ireland has also moved to a digital platform, with its free-to-air service Saorview.
Brian Geraghty, RTE's Digital Reception Manager, said that 60% of Northern Ireland's population was covered with Saorview overspill and another 35% would be able to see RTE programs through an HD Freeview box.
"The simplest solution is if you have a Freeview HD box or Freeview HD television you will get the Irish channels one way or another," he said.
He said there had been shortages of HD set top boxes in the Republic as well, which turned off its analogue signal on Wednesday.
"A lot of stores had run out of set top boxes in the days running up to it (the switch off), the smaller stores, the bigger stores were still carrying stock, but a lot of people had left it very late to make the switch."
People in Northern Ireland who previously received RTE analogue signals will pick up the Saorview overspill signal.
The programmes available to them will be the same as those in the Republic, including football matches.
However, those receiving RTE on an HD Freeview box may have some of those programmes, with rights for the Irish Republic only, blocked.
Belfast and Enniskillen are the areas most likely to need an HD Freeview box to pick up Soarview.
"It's down to where the service originates, so the sports rights management companies and their negotiations with the broadcasters depends on the jurisdiction," Mr Geraghty said.
Eligible older and disabled people in Northern Ireland can still get help from the Switchover Help Scheme.
They have been offered practical help to convert one TV in their homes, including digital TV equipment, installation and 12 months aftercare.
Most people will be asked to pay £40 towards the help, but it is free for eligible people who are also on certain income-related benefits.
In Northern Ireland, eligible people can choose between a standard Freeview set-top box, or a Freeview HD set-top box which can receive the UK public service channel and also TG4, RTE One and RTE Two, subject to coverage in their area.
Other options are also available, some at higher cost.
Applications to the help scheme can be made until 24 November.