Sinn Fein: DUP needs to grow up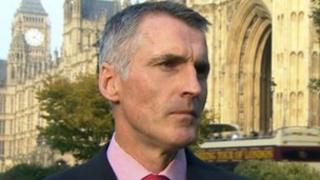 Sinn Fein has accused the first minister of being in "a time warp."
The party's national chairman Declan Kearney also said Peter Robinson should "start doing grown up politics".
Mr Kearney made his comments in a speech in Westminster to an invited audience including Conservative, Labour and Liberal Democrat politicians.
He said Mr Robinson's recent outbursts betrayed discomfort in trying to represent unionists, republicans and nationalists.
"He needs to stop talking out of both sides of his mouth, and get with the programme," Mr Kearney said.
"Opposition to sectarianism is not a negotiation or an optional choice, it must be a leadership imperative".
Mr Kearney's comments come just days after Peter Robinson attacked Sinn Fein.
"Ability to unnerve'
Last Week the first minister claimed Sinn Fein's fear of the SDLP was "often paralysing decisions in the executive".
Mr Robinson told party members that the SDLP's "ability to unnerve" Sinn Fein was quite considerable.
"Too often Alex Attwood's position one day is Sinn Fein's the next," he said.
"Time and time again the SDLP takes a stance that Sinn Fein lacks the courage to oppose."
Declan Kearney's speech, entitled national reconciliation in Ireland - the need for uncomfortable conversations, also examined how to deal with the legacy of the past.
He said he believed there needed to a "national conversation" about reconciliation, adding that the strategy should be run under the auspices of the North-South Ministerial Council and supported by both the Stormont assembly and the Irish government.
He told the London audience: "Some have expressed fear, scepticism and suspicion of this Sinn Féin initiative on reconciliation.
"But those concerns can only be allayed through dialogue. The refusal of political unionism to engage in this discussion is a mistake, because the alternative is to offer the politics of despair."
'Breathtaking'
He also said unionists had to accept their role in the past.
"In recent months it has been breathtaking and bewildering to listen to the recriminatory rhetoric used by representatives of political unionism in public discussions on reconciliation," Mr Kearney said.
"Their contributions sit in stark juxtaposition to the involvement of DUP politicians in Ulster Resistance, its documented role in importing weapons later sold to the UDA, with the support of several British agents, not just Brian Nelson, and, subsequently used in multiple sectarian and political assassinations during the 1980s and 1990s.
"The DUP would be wise to pause and take a step back,"
Mr Kearney said republican and unionist leaders needed to work together on a variety of issues.
He said that included the Cohesion Sharing strategy and measures aimed at reducing segregation, economic issues and a united platform against paramilitaries.
He told the audience: "The British state and political unionism need to step up to the mark".
Mr Kearney used the occasion to outline a series of initiatives that he said should be embraced including a review of the Barnett formula, the lowering of corporation tax and the transfer of fiscal powers to the Executive.
He repeated Sinn Fein demands that the Northern Ireland Office should be scrapped and said a date should be set for a border poll.