Fisherman's wife tells of Ardglass boat ordeal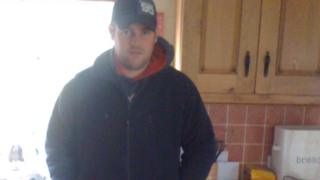 The wife of a fisherman whose boat sank off the County Down coast has told of her relief after he was rescued.
Stephen Kearney and his friend were airlifted to hospital on Tuesday when their trawler went down ten miles from the coast.
Michelle Kearney said she first learned about the incident from a text message asking if her husband was OK.
"Then I heard it on the radio. I was shocked. Until I saw him, everything was going through my head," she said.
The two-man crew of the Ardglass-registered boat, the Snowdonia, were rescued by another trawler, the Tribute.
'Shock'
The crew of Kilkeel inshore lifeboat provided first aid until the rescue helicopter arrived.
"A friend drove me to Daisy Hill hospital. I have to say, the staff were very good," Ms Kearney said.
She said she was in a state of shock until she saw him with "everything going through my head".
"I was just so glad to see him. He was very lucky," she said.
"Stephen was concerned about the other man who was on the boat."
Asked about the possibility of her husband going back to sea, Ms Kearney said: "We will have to talk about that."
Ms Kearney expressed her gratitude to the emergency services, Morris from the Fishermans' Mission and the crew of the trawler Tribute.