Narrow Water bridge project gets 17.4m euros from EU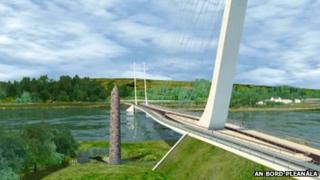 The European Union has said it will give 17.4m euros to fund a new bridge to be built at Narrow Water between County Louth and County Down.
The single lane cable bridge will be 660 metres long and could be open by 2015.
Planning permission has been granted by authorities on both sides of the border.
The Special EU Programmes Body said the money was from the EU's Interreg IVa programme.
The SEUPB said that its steering committee for the project approved the money at a meeting on Wednesday.
"However, given the high value of funding sought, project approval is also dependent upon the financial support provided by the relevant accountable departments, which include the Department of Finance and Personnel in Northern Ireland and the Department of Transport, Tourism and Sport in Ireland," a spokesperson said.
Both governments will be contributing financially to the EU program the funding is coming from.
Sinn Fein assembly member Caitriona Ruane said the bridge will transform the fortunes of South Down.
"This bridge has the potential to open up the entire South Down and Louth area for tourism and business," she said.