Kieran Doherty murder: Police unable to extradite suspect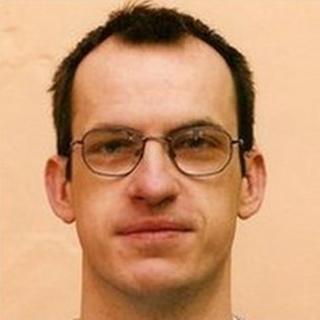 Police have been unable to extradite a man suspected of murdering a dissident republican in Northern Ireland, it has been revealed.
Kieran Doherty, 31, was shot dead by the Real IRA in 2010.
His body was found naked and bound on the outskirts of Londonderry.
The former republican prisoner's death was investigated by an independent security service expert who ruled out MI5 involvement following family concerns about state agents.
Detectives in Northern Ireland have no information to suggest if or when the suspect may enter the PSNI's jurisdiction but are being assisted by another policing body, a senior officer told a preliminary hearing of his inquest in Belfast.
Detective Chief Inspector Ian Harrison said: "We have the name of a suspect but he has not been in this jurisdiction for some time. Extradition would not be relevant in this case.
"I would have concerns if the inquest was to go ahead prior to the arrest of a suspect in this case then matters would be revealed in the coroner's inquest which could be detrimental to the investigation."
Senior coroner John Leckey said during decades of paramilitary violence in Northern Ireland coroners routinely held inquests quite soon after a death and he could not remember police objecting.
The chief inspector said he was not doing so.
'State agents'
Lord Alex Carlile of Berriew QC, who reviewed the use of anti-terrorism legislation for the government from 2005-2011 and advised ministers on the activities of the security services including MI5, was asked by a former Northern Ireland secretary to investigate the killing.
Foyle SDLP MP Mark Durkan had raised concerns about MI5 involvement.
Lord Carlile's report found the intelligence agency, responsible for protecting national security from terrorism, was not involved in the death but the rest of the material was not revealed to the family.
The senior coroner said he would write to Northern Ireland Secretary Theresa Villiers seeking details of the brief given to Lord Carlile, a copy of his report and the underlying material.
At present PSNI Assistant Chief Constable Drew Harris has Lord Carlile's report, Detective Chief Inspector Harrison said.
Family barrister Fiona Doherty said: "There is a serious allegation, a serious issue in this inquest about the approaches made to the deceased, Mr Doherty, by MI5 for a continuous period of time up to his death and the family have serious concerns about that and serious concerns about the possible involvement of state agents in the death."
The family wants the full contents of the Carlile report to be available to the coroner.