Millie Martin murder accused denies harming toddler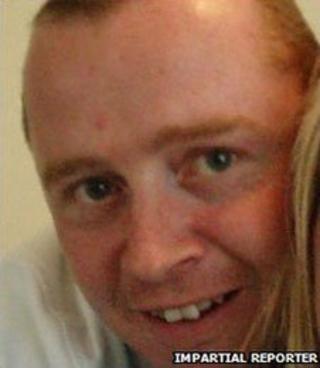 The man accused of murdering Millie Martin told police he had absolutely nothing to do with her death.
Transcripts of Barry McCarney's police interview notes were read out at Dungannon Crown Court on Wednesday.
Mr McCarney said he was "shocked and disgusted" when police told him of the multiple injuries found on the toddler's body after her death.
Mr McCarney denies murder and sexual assault. Millie's mother, Rachael Martin, denies allowing her death.
The toddler died from severe head injuries on 11 December 2009, a day after she was admitted to the Erne Hospital in Enniskillen with serious injuries.
When initially asked about the fatal blow to the back of Millie's head, Mr McCarney replied: "I don't know how she got that injury. I know absolutely nothing about... I am completely disgusted and in shock that Millie has suffered something like this".
Detectives also questioned him about the alleged sex abuse of the infant to which he replied, "I know absolutely nothing about that".
When all Millie's various injuries were listed for Mr McCarney, he was asked: "Did you cause any of these injuries?"
"No I did not cause any of those injuries," said Mr McCarney, who added: "I didn't and I would not harm a hair on her head".
However, police in turn put it to Mr McCarney: "Well somebody did", to which he responded: "I'm not the only person that had access to Millie".
The notes reveal Mr McCarney told detectives he wanted to see the person who attacked Millie arrested and punished for what they had done to the toddler.
Later he repeated that he "wanted to find out who done this to Millie, I want to find out", but said he had not "accidentally" caused any injury to the infant while in his arms when being driven to hospital.
Earlier on Wednesday, the court was told he had tried his best to resuscitate the toddler after finding her "completely lifeless" in her cot.
He told police when he lifted Millie she was lying limp, her face was white and her lips were blue.
He gave her a shake but "there was no response at all."
Mr McCarney said it was the first time he had tried CPR and he breathed into her mouth and pumped her chest.
He said she gasped just once and then stopped again.
"I'm just trying to do my best to help her. I did not know what to do."
The neighbour who drove him to the Erne Hospital told him to massage Millie's chest.
"It was better to try something than try nothing," he told police.
He said he could feel her heartbeat which felt strong but her body was limp and her eyes were closed.
After he arrived at the hospital he said he went outside and was sick three times because of the shock of what had happened.
The court also heard that during the police interviews, Barry McCarney was asked to describe his role with Millie.
He said: "Before I came, she wasn't allowed sweets or biscuits or nothing like that."
In the same interview, Mr McCarney told detectives: "When I first came about Rachael's, I was completely mad about Millie, mad about her. I played with her, done loads of stuff with her you know and that was from the very start."