Servite Priory, County Tyrone in lottery bid to save rare books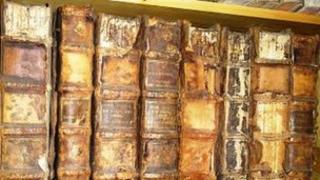 A religious library in County Tyrone could be in line for nearly £773,000 in lottery funding to help restore a huge collection of rare and valuable books.
The Servite Priory library in Benburb contains around 20,000 manuscripts, books and other archive materials, some dating back to the mid 16th Century.
The project aims to preserve the collection which is currently at risk of further deterioration.
Heritage Lottery Fund (HLF) has given its initial support to the funding bid.
The package would include development funding of £83,000 to "protect and open up the rare collection".
'Incredibly valuable'
Paul Mullan, head of the Heritage Lottery Fund Northern Ireland, said: "We consider the care of this collection a high priority and we are delighted to be able to give the project the necessary support to further develop their plans to secure funding.
"This is an incredibly valuable collection, and the outlined plan will provide the proper care and public access to an absorbing historical collection."
If the funding is secured, the project aims to refurbish a Victorian stables building at the priory where the restored collection will be housed.
In the stables, space will be created for people to meet, view and access the collection.
The archive consists mainly of material related to the Servite orders which was gathered over the past 150 years, including the personal records of 300 friars.
However, some have been under the care of the order for over 400 years, originating in Italy and Austria.
Several volumes were brought to London in 1864, transferred there for safe-keeping during the time of Italian reunification.
'Heritage treasure'
When the English Servite priories amalgamated with their Irish counterparts 12 years ago, many of the books were brought to Benburb and the library was expanded to its current size.
It also contains Irish literature and general religious collections.
Professor Gerry McKenna, chair of the Servite Library Project Board, said the HLF support for the plan was "excellent news" for the priory, Benburb and the surrounding area.
"It will allow a heritage treasure to be preserved, developed and made accessible to a wide variety of interest groups from throughout Northern Ireland and beyond."