Storey: School tests fault similar to Ulster Bank crisis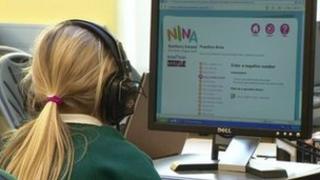 The chairman of the Stormont education committee has described the computer test problems in some NI schools as a crisis within the Department of Education similar to that experienced by Ulster Bank.
Mervyn Storey made his comments as Department of Education and exams body officials faced questions from MLAs.
Hundreds of primary schools have complained after P4 to P7 children attempted to take the online assessments.
The Department of Education is paying almost £1m this year to run the tests which are designed to check on pupils' literacy and numeracy progress.
More than 50,000 pupils have completed the tests but some principals have said they have concerns about the results reported to parents.
Education department official Katrina Godfrey said the results of the tests were not collected anywhere outside of the classroom and had been "designed to help pupil, teacher and parent work together to achieve the pupil's full potential".
She said there was a requirement in law that such assessments were carried out in primary schools and a trial of the computer-based assessments had shown no major faults.
"We had absolute assurance that the issues identified during the trial were picked up, were categorised and acted upon before the roll-out," she added.
"It is not in my minister's (Education Minister John O'Dowd) view, a tenable position for us to be requiring something to happen and then not doing everything in our power to make sure it is working smoothly."
Mr O'Dowd has already told schools having difficulty not to continue with the tests until the fault has been put right.
Solution
Ms Godfrey, however, said the intermittent nature of the technical issues reported by some schools made this a difficult matter to resolve.
"But be assured that we are absolutely determined to resolve them and do so quickly," she added.
Ulster Unionist Jo-Anne Dobson said the assessments had been "a total failure" and had caused "considerable stress and disruption for pupils", although this was something the department official denied.
Jonathan Craig of the DUP said he took exception to the comments made by Ms Godfrey.
"Either the department does not realise the scale of the problems here or they are choosing to play it down," he said.
Thousands of Ulster Bank customers were unable to withdraw cash or access their accounts after a software upgrade on 19 June.
Ten weeks after the initial problem, the bank was still warning some customers that their statements may not be correct.