Laser pen aircraft warning issued by Newtownabbey police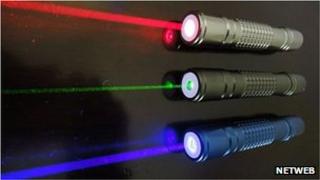 There have been 12 cases of laser pens being pointed at aircraft in Newtownabbey in the last three weeks, the police have said.
The PSNI have warned that this can endanger the aircrew and the public.
Inspector Alan McKeown said the pens "can cause temporary blindness and distraction to the pilot".
He said that anyone convicted of endangering the safety of an aircraft or dazzling a pilot could expect a hefty fine and possible jail term.
"Incidents are immediately reported to air traffic and may result in disruption to the flight paths of commercial aircraft," he said.
"Post incident, pilots have to undergo a medical check - this will prevent any further flying until cleared to do so."