A5 campaign group 'may not have legal status' for challenge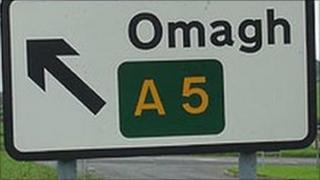 A campaign group opposed to a new £330m dual carriageway project may not have the legal status to bring its challenge, the High Court has heard.
The attorney general has queried whether the Alternative A5 Alliance qualifies as an "aggrieved person".
The group making the judicial review challenge is made up of farmers, businessmen and landowners.
Lawyers for the group said they will seek an injunction on preliminary site preparations due to start next week.
Work on the scheme to rejuvenate two sections of the A5 road between Aughnacloy, in Co Tyrone, and Londonderry has been put on hold following the legal intervention.
Lawyers for the Alliance claim there has not been a proper environmental impact assessment carried out.
Challenge
Although the case has yet to be heard, they set out their need for a protective costs order to limit the legal bill should they ultimately lose.
Barrister Jonathan Dunlop also told the court he planned to apply for interim relief to stop the Department for Regional Development beginning preparatory work.
He said a letter from Roads Service has set out plans to proceed with archaeological surveys and ground investigations on 29 October.
During the brief hearing a barrister for the department said a point has been raised about who has status to bring such a challenge.
He said: "The attorney general has written a letter suggesting the applicant on this present form doesn't constitute a person aggrieved.
"It seems to us that is a matter that has to be decided initially."
The court was told that 18 people make up the Alliance - an unincorporated association against whom any costs could not be enforced.
Further efforts are to be made to obtain information on the financial circumstances of those involved.
Mr Justice Treacy agreed to hear full arguments on all of the points raised at a further hearing next month.
However, Mr Dunlop advised him: "Dependent on what works the department is to carry out affecting the individuals' lands, it may be that we may be applying to come back to court on the interim relief point on a more urgent basis."