Age of criminal responsibility could rise says David Ford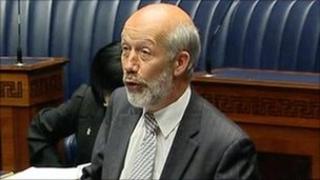 The justice minister has said he is committed to pressing for an increase in the age of criminal responsibility.
David Ford told the assembly he agreed with the "overwhelming majority" of those who responded to a public consultation that 10 years old was too young to deal with the "weight of a criminal justice system".
Mr Ford commissioned the review of NI's youth justice system in November 2010.
It recommended the age of criminal responsibility be increased to 12.
The team published their final report in September 2011.
During an assembly statement on a review of youth justice on Tuesday, Mr Ford said he realised that an "important minority" of assembly members were not yet persuaded that the age should be raised, however, he added that medical research on brain development had suggested criminalising young children had a negative impact.
The minister said he would hold further discussions on the issue of the age of criminal responsibility.
"I share the view of the review team and the majority of those who responded to the public consultation, that the current age of 10 is too young for children to truly understand the consequences of their actions or to be dealt with in the criminal justice system," he said.
Discussions
"As a society we must have better ways of dealing with the tiny number of very young children who offend and who are more in need of protection than punishment.
"There is however still some further discussion required in the assembly on this issue and I will continue the dialogue in order to establish a practical way forward."
Justice committee chairman Paul Givan said he welcomed the "minister's recognition that the age of criminal responsibility won't change" and said his party, the DUP, opposed any increase.
However, Mr Ford disagreed with Mr Givan's interpretation of his statement.
The review team had also called for an end to the practice of detaining under-18s at Hydebank Wood.
Mr Ford told MLAs that from Tuesday juveniles would be taken to the Woodland Juvenile Justice Centre instead of Hydebank Wood.
"The Youth Justice Review called for a halt to the practice of detaining under 18 year olds in Hydebank Wood Young Offenders Centre within 18 months," he said.
"Significant progress has been made against this recommendation. When work started there were around 20 offenders in Hydebank Wood under the age of 18 and today all offenders under 18 are located at Woodlands. That will remain the position in all but the most exceptional circumstances."
The Implementation Plan published on Tuesday sets out a number of actions for the criminal justice system and others in order to take forward the 31 recommendations.
David Ford said: "This plan sets out a clear direction for the future of the youth justice system in Northern Ireland. Importantly, it will deliver significant change and improvement in the way in which the criminal justice system deals with young people who offend.
"I have already commissioned a wide range of initiatives to improve the speed with which youth justice cases are managed. I have already announced that statutory time limits will operate in youth courts before the end of this assembly mandate."
Currently children aged 10 or over can be brought before courts in Northern Ireland and charged with criminal offences.
That is the same as England and Wales, but out of line with much of Europe.
Scotland raised its age of criminal responsibility from eight to 12 earlier this year.
In the Irish Republic, no child under 12 can be charged, although there are exceptions for 10 and 11-year-olds suspected of very serious offences.
The review into the youth justice system in Northern Ireland was set up as a result of the Hillsborough agreement on power sharing.