Sinn Fein legal bid to stop libel action by Declan Gormley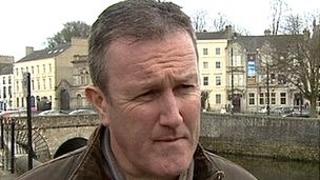 Sinn Fein and two of its representatives have launched a legal bid to halt a libel action brought against them by a former director of Northern Ireland Water.
A High Court judge was told the contents of press statements naming ex-NI Water director Declan Gormley did not have a defamatory meaning.
The case is currently due for hearing later this year.
The defendants want a jury sworn in if it does proceed to trial.
Mr Gormley, a non-executive director in NI Water, was dismissed along with three other board members by former regional development minister Conor Murphy in 2010.
They were sacked following an investigation into how contracts were awarded.
Mr Gormley denies any wrongdoing.
He has issued libel proceedings against Sinn Fein, its assembly member Cathal Boylan, and the party's former assembly member Willie Clarke.
Mr Gormley's claim is being resisted on the grounds of fair comment, qualified privilege and a further defence of justification.
Lawyers for the three defendants also sought a preliminary ruling that there was effectively no case to answer.
They claimed the natural and ordinary meaning of the contested statements is not actionable.
Barrister Martin McCann said: "There is nothing defamatory in either of these, on any plain reading of them.
"What Mr Gormley really is complaining about is that he was sacked."
Nicolas Hanna QC, representing Mr Gormley, argued that reference was made to his client being dismissed over a "procurement scandal".
He said: "The plaintiff is making the case that the words in the press statement meant he was culpable, responsible, that he was to blame for this procurement scandal."
Mr Hanna also accused the defendants of being "highly selective" in their interpretation of a Public Accounts Committee report central to the case.
"Far from vindicating the sacking of Mr Gormley, it does the opposite," he said.
Mr Justice Horner is expected to rule on the defence application at a later stage.
He listed the case for a further review early next month, with the trial due to begin on 26 November.