Michaela McAreavey: Families to sue hotel where she was murdered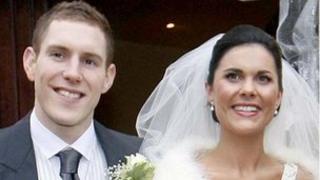 The Harte and McAreavey families are suing the hotel in Mauritius in which Michaela McAreavey was murdered.
Mrs McAreavey, 27, from County Tyrone, was killed at the Legends Hotel (now known as Lux) on the island in 2011.
The claim by the families is understood to amount to £1.3m. The case is expected to be heard in the country's Supreme Court on 15 November.
The families' lawyer said any money won would be used "to fund the Michaela Foundation to help needy children".
The fixed damages and expenses are the cost of Mrs McAreavey's funeral (£18,000), flight expenses (£16,000), legal expenses (£25,000) and professional counselling services (£10,000).
The remainder of the claim is on Mrs McAreavey's projected earnings and moral damages thus amounting to £1.3m.
Two hotel workers accused of killing the daughter of Tyrone GAA manager Mickey Harte were cleared of her murder earlier this year.
Former Legends employees Sandip Moneea, 43, and Avinash Treebhoowoon, 32, were found not guilty by jurors at the island's Supreme Court in July.
Their trial at the Supreme Court in Mauritius lasted more than seven weeks and was one of the longest in Mauritian legal history.
In July it was revealed that Northern Ireland's Attorney General John Larkin was going to examine the papers from Mrs McAreavey's trial.
Mrs McAreavey's father, Mickey Harte, is one of the most respected figures in gaelic football, a sport which is hugely popular in Ireland.
Thousands of mourners attended Michaela's funeral near her family home in Ballygawley, County Tyrone.
The 27-year-old had married John McAreavey just 12 days before she was murdered, and was buried in her wedding dress.