Dundonald teenagers 'beaten by carloads of men'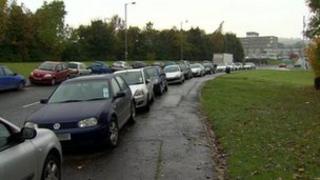 Two teenage boys are recovering after being attacked by a group of men in Dundonald, County Antrim.
It happened as the boys, aged 13 and 14, walked home from the Ice Bowl along the East Link Road on Saturday night.
A father of one of the victims - who wanted to remain anonymous - said three carloads of men pulled up and attacked them at about 22:00 BST.
He said his son remembers being knocked to the ground and then kicked and punched.
"They got out of the car, about 10 of them, one of them came across in his face and said 'I've been a boxer for 16 years'", he said.
"Then one of the guys standing to the side of him punched him clean into the neck which put him down.
"Then he said he can't remember how many, he just remembers people punching and kicking at him, that's all he can remember."
He said his son did not want to leave his home to go to hospital after the attack, but said he had injuries that needed to be treated.
He said he told him the attackers were aged in their mid-20s or early 30s.
"I can't work them out, to me they're disgusting, they're yellow - I mean to take on children. I've just contempt for these men," he said.
'Horrible to witness'
The attack was witnessed by a woman driving along the road with her son.
"There were three cars on the right-hand side of the road that had mounted the kerb. It was a child in a yellow hoodie with four fellas bashing the head off him, it was terrible," she said.
"I saw four men standing beating this child and they were punching him round the head, kicking him, everything.
"His wee chum jumped in and the next crowd came over.
"It was horrible to see, horrible to witness. Even if it had have been men on men it would have been horrible, but this was two wee kids."
She said she thinks it only stopped when she pulled over to intervene.
The police have confirmed that they are investigating the incident which happened close to the entrance to Moat Park.
They said three men are believed to have got out of each of the cars.
One was described as being in his mid-20s, about 5ft 9ins tall, with short cropped hair and black and red tattoos on both arms.
He was wearing light grey tracksuit bottoms and possibly a tank top.
Police want anyone with any information to contact Castlereagh PSNI Station on 0845 600 8000.