Poignant ice tribute to Titanic victims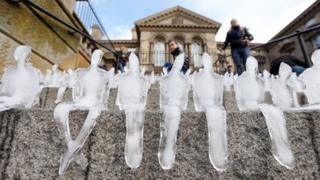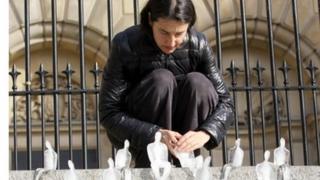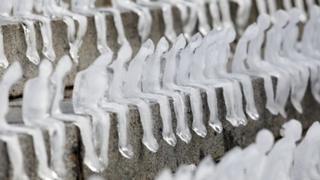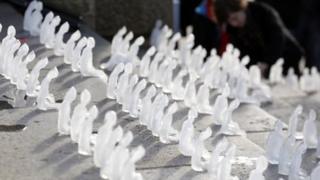 It was a poignant tribute to the 1,517 men, women and children who died when the Titanic sank on her maiden voyage from Southhampton on 15 April 1912.
Artist Nele Azevedo created an ice figure for each individual victim and on Sunday, at Custom House Square in Belfast - the city where the great ship was built - she launched her tribute.
Volunteers placed the little melting men - each about 15in high - on the steps of the square.
Then, the crowds watched as 1,517 figures slowly melted and disappeared.
It was part of the commemorations for the centenary of the sinking of the Titanic.
"It was very emotional to watch the figures melting away, leaning and falling on top of each other," said Cathy Law from Belfast Festival at Queen's which organised the event.
"It took about 20 minutes for the figures to melt and everyone stopped and watched. One child said it was as if the figures were crying. It was very poignant."
Azevedo, from Brazil, said she was happy with the response to her work which is part of the Minimum Monument project which, its organisers say, celebrates what is ephemeral and diminutive, as opposed to what is monumental and grandiose.
Azevedo spent the past two weeks in Belfast preparing her ice sculptures, using three large freezers to store them in the run-up to Sunday's ceremony.