Newtownards: arson attack mother leaves home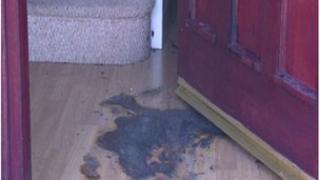 A mother of three is moving out of her Newtownards home after the latest in a series of attacks.
Janette Nelson, 38, who is a Catholic, was alone in the house at Lenamore Park on Saturday evening when flammable liquid was poured through the letter-box and set alight.
She was able to put out the fire and was not injured. Police are treating the attack as a hate crime.
It is the fourth time the house has been targeted in recent weeks.
The family have had to endure graffiti, broken windows and two arson attacks in ten days.
No option
During the first arson attack, Ms Nelson and her children had to be rescued when a fire was started in the early hours of the morning.
She had always resisted leaving her home but now she feels she has no option.
Her sister, Lizzie McInerney, said the latest attack was the last straw.
"She was here, sorting out her stuff and that happens during the evening. She has to leave, she's going to have to."
Ms McInerney added the past few weeks had been "really difficult" for the family.
She said her sister's children had frequently cried over the situation, and wanted to return to their home where they could play with their friends.
'Attempt to murder'
"They can't go home - any time they do go home, this happens again.
"Somebody is out there to kill them," she told BBC Newsline.
Alliance councillor, Linda Cleland, condemned those responsible for the attack which she decribed as an "attempt to murder".
"We've moved forward and we don't want to go back. We have to live together, no matter what religion or what nationality we are," she said.
Ian Cox of the East End Community Association in Ards said the family were "totally sickened" by what had happened.
"They are asking questions about what is going on. We would ask anybody to come forward to give the PSNI some sort of lead," he said.
"This should not be happening. The whole community is in shock."
Last week, police questioned a 32-year-old woman on suspicion of intimidation in connection with an earlier attack. She has been released pending further inquiries.