E. coli outbreak: 49 cases are confirmed by PHA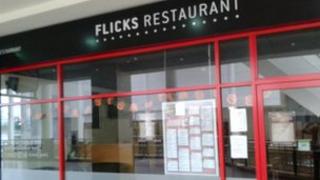 The Public Health Agency (PHA) has said there are now 49 confirmed cases of E. coli following an outbreak linked to a north Belfast restaurant.
In its latest update on Saturday, the agency said it was also investigating 181 probable cases of infection.
The investigation has centred on Flicks restaurant in the Cityside shopping complex which remains closed.
To date, 15 people have been hospitalised since the start of the outbreak but most have been discharged.
On Thursday it was confirmed that the type of E. coli 0157 linked to Flicks customers this month is a different strain to that which affected four people who had eaten in the same restaurant in August.
The PHA said the four previous cases were investigated thoroughly at the time and all tests on the restaurant were negative.
The agency was first notified of the latest outbreak on 9 October.
It added that in the six weeks prior to that, there were no cases of E. coli associated with Flicks restaurant.
The PHA has advised anyone who ate at Flicks restaurant since 24 September and has symptoms of diarrhoea and/or abdominal pain to contact their GP urgently for medical advice