Apprentice Boys of Derry £2m boost for new visitors centre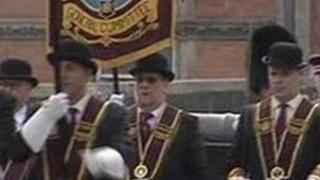 More than £2m has been awarded to the trustees of the Apprentice Boys of Derry to create a new visitor's centre in Londonderry.
This grant will also be used to renovate the the existing Apprentice Boys Memorial Hall on Society Street.
The funding will create a new interpretive facility called the Siege Heroes Museum and Shared Space Visitors Centre.
The centre is designed to educate people about the Great Siege of 1689.
At the start of the siege of Londonderry in 1689, 13 apprentice boys slammed the city gates against the army of the Catholic King James II.
Funding was secured for the project from the European Union's PEACE III Programme.
Sinn Fein Mayor, Cllr Kevin Campbell, said he was delighted at the move. "The city has many historic buildings and this most certainly is one of them and I look forward to seeing this project being delivered to create a new visitor centre and shared space for the city.
Commenting on the project Shaun Henry, Director at the Special EU Programmes Body said he hoped the project would "encourage cross-community integration and reconciliation."
"Upon completion the new visitors centre and refurbished memorial hall will enable the Apprentice Boys of Derry to promote mutual respect and tolerance, with all sections of society through a greater understanding of our shared past", he said.
General Secretary for the Apprentice Boys of Derry, William Moore said the project would begin next year.
"This new centre will greatly assist the Apprentice Boys to continue with their outreach work with all communities and promote a greater understanding of the ethos, history and culture celebrated by the association", he said.
"This project will assist the Protestant community to play their role in being part of a shared city, where all traditions are welcomed and valued."