Sam Neill plays Belfast detective in BBC gangster drama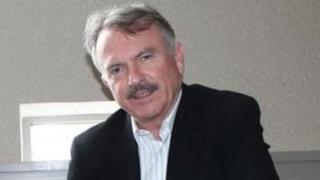 An international film star has returned to his Northern Ireland roots this week.
Sam Neill achieved stardom battling dinosaurs in the Steven Spielberg blockbuster Jurassic Park.
And while he is one of the more well-known New Zealand actors, his roots lie in County Tyrone.
His father was stationed in Omagh as an officer with the Irish Guards when Mr Neill was born in 1947.
"I was born in Omagh, we lived in Armagh and my favourite place here was Tyrella beach, I sort of think that's where I grew up," he said.
"That's where my earliest memories are from, I think it was whooping cough and waking up and thinking I was going do die.
"I nearly died then, but here I am."
When he was seven the family returned to New Zealand, where he still lives. He was in Northern Ireland this week to promote a range of wines from his own vineyards.
The actor said that he came from a line of spirit merchants, stemming back to his great-grandfather in Belfast in 1861.
"I'm the first one to have grown the grape though," he said.
He is currently shooting the BBC TV production Peaky Blinders, a gangster saga set in the days after the First World War and being filmed in Birmingham, Leeds and Liverpool.
Mr Neill plays a new police chief, C.I. Campbell, sent in from Belfast to clean up the city.
However, since the series is being marketed in America he has to keep his Northern Irish voice toned down.
"They (the producers) said not to have too strong an accent because we need to be understood, but the Northern Ireland accent is very challenging," he said.
"I probably had one, but it was well beaten out of me in the playground in New Zealand, there's not a trace of it now.
"But I enlisted the help of my friends James Nesbitt and Liam Neeson."