Queen's University Belfast in £140m fundraising plan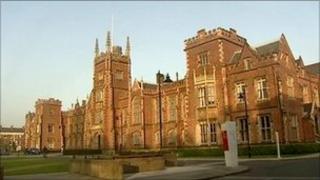 A major fundraising campaign is being launched on Friday by Queen's University Belfast.
The quest for money will begin at the official opening of Riddel Hall in Stranmillis.
The building has been refurbished to provide top facilities for the economic development of businesses in Northern Ireland.
One hundred and forty million pounds is the target of the fundraising campaign with £17.5m already pledged.
Queen's Vice-Chancellor Professor Sir Peter Gregson said: "The new fundraising campaign is an ambitious goal to raise £140m to provide the ultimate student experience and to invest in those areas in which we globally excel.
"It is a campaign that will allow Queen's to continue to make its disproportionate contribution to the success of Northern Ireland.
"From cybersecurity to the humanities, and from food science to medicine, Queen's impact and influence on society is exceptional."
Riddel Hall is being officially opened by former Irish president Mary McAleese.