BA boss Willie Walsh not hopeful over air passenger duty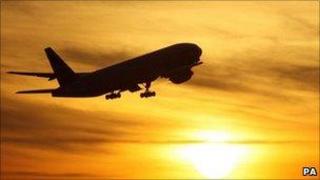 The head of British Airways has said there is no chance of Air Passenger Duty being scrapped on short-haul flights from Northern Ireland.
Legislation to cut the duty on long-haul flights is going through the assembly.
However, Willie Walsh said he had no hope that Westminster would get rid of the £13 tax paid by passengers on short-haul flights.
He said it was damaging the economy and that the whole tax should go.
"It's better, I think, if the whole tax was scrapped rather than adjustments made on an ad hoc basis like we've seen in Northern Ireland for long-haul flights," he said.
"It does put us at a disadvantage compared to the carriers that are operating directly from Belfast, because if you're flying from Belfast over Heathrow you're still paying the high levels of taxation."
On Wednesday, Finance Minister Sammy Wilson said he would like to see the Air Passenger Duty on short-haul flights cut, but said it might cost NI too much in terms of what would be lost from the block grant.
This is the money Northern Ireland gets from the Treasury.
"We don't have the power to cut it - the only power that has been devolved to us is the power for direct long-haul flights," he said.
"Even if we did have the powers, we would have to ask the question whether or not the £60m this would cost us, rising to £90m, would be better spent on other developments."