Peter Robinson accuses Sinn Fein of being irresponsible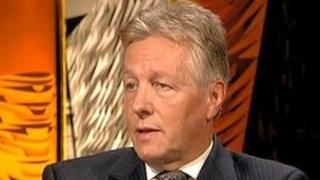 First Minister Peter Robinson has again criticised Sinn Fein, saying they changed positions to mirror the SDLP.
He said they took irresponsible positions on issues like welfare reform knowing the DUP would act responsibly.
However, he also said the Conservatives and Labour would not have done as well in a mandatory coalition as his party and Sinn Fein have.
Speaking on BBC NI's The View, Mr Robinson said the two parties had put a lot of history behind them.
"I think Sinn Fein should have confidence because of their electoral mandate in the assembly," Mr Robinson said.
"But I see over and over again the kind of line that Alex Attwood and the SDLP would be taking suddenly becomes the position that's adopted by Sinn Fein.
"I really do think that they need to stop looking over their shoulder, stand up for themselves and take the responsible position in government."
He said it would have been easy for the DUP to have voted against welfare reform so as to avoid any blame for it, but that would not have been the responsible thing to do.
"Sinn Fein take a position knowing that we're going to act responsibly, therefore they're going to act irresponsibly on the issue," he said.
However, Mr Robinson said his party and Sinn Fein had been able to work together in the best interests of the people of Northern Ireland.
"I don't believe that if you set the Conservative and Labour parties down together and said 'you've a mandatory coalition, you have to work together' that they would have done as well as we have," he said.
"We've been able to leave behind us a lot of history.
"We've been able to say 'what is in the best interests of the people we represent, how can we make this work' and we've done that over and over again."