Corporation tax decision rests with David Cameron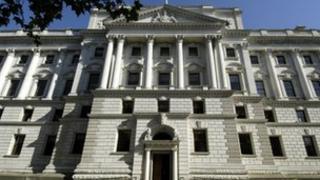 A decision on whether to grant Northern Ireland power over corporation tax now rests with David Cameron, and could be made within weeks.
The Ministerial Working Group held its last meeting on Thursday at Westminster and agreed an "options paper" to be presented to the prime minister.
The group comprises ministers from the Stormont Executive, Northern Ireland Office and Treasury.
The move signals the beginning of intense political negotiations.
Secretary of State Theresa Villiers said: "We now know the broad shape of what a devolved corporation tax regime for Northern Ireland might look like.
"There are still some issues to be considered and resolved. We will take stock, write up our findings and report them to the prime minister."
It does not mean that Northern Ireland will see the powers devolved, but the argument to secure them has suddenly got more real.
Both First Minister Peter Robinson and Deputy First Minister Martin McGuinness were clear that this is a "political", not economic decision now.
And they are hoping to secure a meeting with Mr Cameron soon to try to steer him towards their preferred options.
Their belief is that political will should overcome economic difficulties and ensure a price that works.
It is clear that the gap between what Stormont wants to pay for the privilege of controlling corporation tax, and what the Treasury wants to charge, has not been narrowed.
So, although the local politicians have succeeded in getting this pushed firmly into the Downing Street in-tray - the danger for them is that David Cameron may yet offer a power they cannot afford.
And if it's all about politics, then it's Scottish politics and the future of the union that will weigh most heavily on Mr Cameron's mind.
'Scottish fear'
Northern Ireland Secretary Theresa Villiers stressed the "constitutional" issues tied up with devolving this power and admitted that the impact of this issue on the Independence Referendum due in Scotland in 2014 would be a factor the prime minister would have to consider.
It has been increasingly apparent in recent months that a fear at Westminster of handing Scotland's First Minister Alex Salmond a campaigning issue for independence was responsible for slowing progress towards devolving the power.
Now the Northern Ireland lobby is trying to turn the Scottish debate to its advantage - arguing that refusal to grant power to Northern Ireland would only demonstrate to Scottish voters that Westminster wasn't interested in full devolution, whereas a positive move could help make the case for strong devolution within the union.
The options paper should be finalised within days and a decision will be made within weeks.
If it gets the go-ahead from the government, the news could be delivered by the chancellor in his autumn statement on Wednesday 5 December.
So, devolution of Corporation Tax remains on the agenda, and on the prime minister's agenda.
That's a win for Stormont, but not yet victory.