Smithwick Tribunal: PSNI 'collusion' intelligence to be heard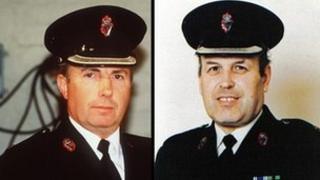 The Smithwick Tribunal is expected to hear the details of "significant" evidence relating to allegations of garda collusion on Thursday.
The tribunal in Dublin is investigating allegations of garda collusion in the 1989 murders of two RUC officers.
Chief Supt Harry Breen and Supt Bob Buchanan were killed in an IRA ambush in South Armagh after leaving a meeting in Dundalk garda station.
In the summer the tribunal was told of additional information from the PSNI.
It was unexpectedly notified, in July and September, of the intelligence gathered since the tribunal began its investigation seven years ago.
The intelligence is graded as "accurate and reliable".
The PSNI Assistant Chief Constable, Drew Harris, recently outlined the details of 12 strands of the new intelligence to the tribunal in a closed session.
The tribunal chairman, Judge Peter Smithwick, has described that intelligence as "extremely sensitive material which potentially carries a risk to the lives of informants and national security on both sides of the border".
On Thursday, the evidence, which will be redacted in parts, will be read onto the public record.
The "live intelligence", in part, arises from commentary with Republican circles on the work of the tribunal.
The tribunal, established in 2005, has been hearing evidence in public since June, 2011.
The Irish government this week approved an extension of the deadline for the tribunal's conclusion date to 31 July, 2013.
The tribunal chairman had sought the extension due to the ill-health of a key witness. He also said the PSNI intelligence "necessitates a further phase of private investigation".