Cutting air passenger duty tax may cost too much - Sammy Wilson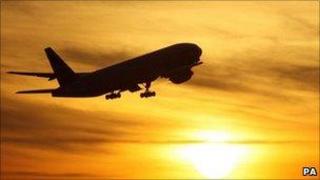 Finance Minister Sammy Wilson has said he would like to see the Air Passenger Duty on short-haul flights cut, but said it might cost NI too much.
The tax currently adds £13 to a flight in Northern Ireland, compared to three euros in the Republic.
While legislation to cut the duty on long-haul flights is going through the assembly, NI does not have the power to cut it on short-haul flights.
Getting this power would affect the amount it gets in the block grant.
This is the money Northern Ireland gets from the Treasury.
As the devolved administration does not have responsibility for tax-gathering, when tax is gathered in Northern Ireland, it is collected by HM Revenue and Customs and it goes directly to the Treasury in London.
The Treasury then works out how much Northern Ireland should get from the United Kingdom's overall income.
If the power to cut Air Passenger Duty on short-haul flights was devolved it would have a potential cost to the block grant of between £60-90m a year.
"I have already spoken against air passenger duty in its totality in the House of Commons during budget debates," Mr Wilson said.
"There's already additional costs now under the Emissions Trading Scheme which imposed burdens on airlines.
"We see this a double taxation and damaging to the economy."
However, he added: "We don't have the power to cut it - the only power that has been devolved to us is the power for direct long-haul flights.
"Even if we did have the powers we would have to ask the question whether or not the £60m this would cost us, rising to £90m, would be better spent on other developments."