Pakistani man and Polish woman held after Dungannon 'sham marriage'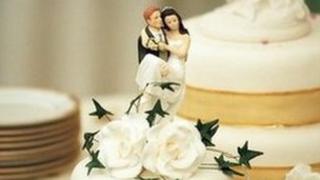 A 28-year-old Pakistani man and a 42-year-old Polish woman have been arrested following a suspected sham marriage in Dungannon.
The couple had been due to get married at Dungannon Council offices at 13:00 BST on Wednesday.
However, UK Border Agency officers, acting on intelligence, stepped in before the ceremony could take place.
They questioned the pair separately and when their answers failed to satisfy the officers, both were arrested.
The Polish woman's bridesmaid was also arrested, as was a local man who had apparently been recruited as a witness by the prospective groom.
Both the participants face jail and/or deportation if they are found guilty of breaking immigration law.
A spokesman for the UK Border Agency said sham marriages usually involve a non-European national marrying someone from the EU as an attempt to gain residency, the right to work and other benefits.