Belfast sex offenders' hostel to reopen in weeks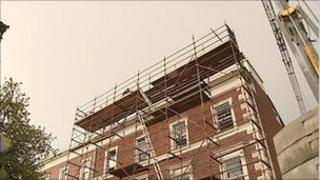 A hostel in north Belfast that houses ex-prisoners, including sex offenders, is to reopen shortly, despite a campaign for its permanent closure.
Thompson House on Antrim Road has undergone a £2m refurbishment, with the number of CCTV cameras rising from four to 84 and can house 19 offenders.
The hostel is run by the Presbyterian Board of Social Witness.
Linda Wray from the board said it was safer to have offenders where they could be monitored.
"Not all those residents will be sex offenders, they will have a range of offending behaviour," she said.
"Most of those there will not be sex offenders, numbers will fluctuate but at any time there may only be two or three."
She said that there would be a curfew for offenders and that they would not be allowed out when children were going to or coming from school.
The hostel is one of three dedicated offender hostels in Northern Ireland, all of which are based in Belfast.
It was set up 30 years ago by the Presbyterian Church and has been attacked in the past. Last year a pipe bomb was thrown at the hostel and it has also been splattered with paint.
Residents have expressed concern at having sex offenders living in a residential area.
Public protection arrangements co-ordinator Marcella Leonard, said they had listened to the concerns of residents, but that hostels were a "key resource" to provide safe, supervised accomodation from people who are leaving prison.
"Staff are fully qualified to work with individuals who pose a range of risk," she said.