Arlene Foster leads IRA victims' delegation for Dublin meeting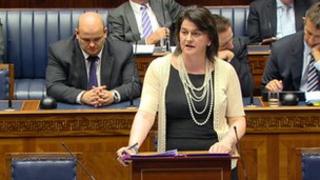 A group of IRA victims have met the Irish prime minister to discuss what they claim are previous Irish government failures during the Troubles.
The group was accompanied by DUP minister Arlene Foster.
Families and members of a Lisnaskea-based victims group met Enda Kenny on Tuesday evening.
They want a formal acknowledgment that previous governments "failed to protect life within border communities".
Mrs Foster said it was a "privilege" to lead the group to "tell their story".
Speaking after the meeting Mrs Foster said: "We're not going to be prescriptive about this, not in any one way, we just wanted to be able to come here tonight to lay everything out for him so that he can see the pain, the hurt, the terrible way of life that people had to put up with during the 1970s and 80s.
"It is up to him to come back to us and to discuss those matters further."
Five families as well as representatives from the Lisnaskea-based victims group South East Fermanagh Foundation (SEFF) attended the meeting at Government Buildings in Dublin.
"I think to say there wasn't a tear shed at that meeting would be an incorrect thing to say," said SEFF spokesman Kenny Donaldson.
"For many individuals this was the first time that they had shared their stories in a public forum and tonight was about them.
"This issue transcends all politics. The victims issue is bigger than any politics and those standing behind me, it's their voice we're speaking with tonight and those that are beyond the grave."
More victims of the conflict will meet the Taoiseach in the coming months.
Last month, Mr Kenny told relatives of the 10 men killed in the 1976 Kingsmills massacre in County Armagh, he could not apologise for the IRA.
A DUP motion at Stormont last month called on the Irish government to apologise for its alleged role in the emergence of the IRA.
It was passed by 47 votes to 46.
During the debate, Mrs Foster said: "We do ask them (the Irish government) to acknowledge both their acts of commission in relation to collusion and their acts of omission in not seeking to secure the border of Ireland."
She said the apology "must have reference to and acknowledge the ethnic cleansing" which took place along the Irish border by the Provisional IRA.