'Poor leadership' of NI schools, says report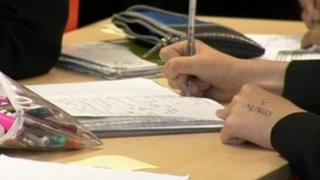 There are still problems with poor leadership of NI schools, despite improvements in some sectors, according to the chief inspector of schools.
Noelle Buick is also concerned about poor exam results among less well off pupils.
Every two years, inspectors write a formal report into how pupils, teachers and managers are performing.
It found only 32% of pupils entitled to free school meals got five good GCSEs. This year the government target is 42%.
The latest report said primary school leadership had improved but those who manage secondary and grammar schools came in for criticism.
Two years ago, 33% of the managements inspected were not up to standard but now the figure is 39%.
Mrs Buick said leadership needed to improve.
"The quality of leadership and management in many schools was found by inspection to be not good enough," she said.
"This was the case in 22% of primary schools and 39% of post-primary schools.
"Inspection also found that the effectiveness of boards of governors could be improved in 20% of primary schools and 34% of post-primaries."
Mrs Buick said although the education system was serving the majority of learners well, too many were still being left behind.
"More and more children are leaving school each year with five good GCSEs, including English and mathematics, giving them the choice of entering training, employment or continuing with academic studies," she said.
"It is imperative that this trend continues and education professionals in every sector will be at the forefront of working towards this goal."
The chief inspector also said pressure from schools could mean reducing the amount of warning inspectors give before going into a school
Her report is based on the findings of inspections between April 2010 and June 2012.