Ulster Scots and Scottish independence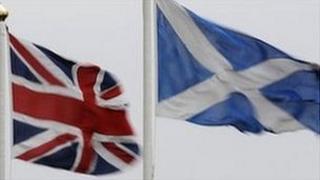 When Orange Order historian David Hume suggested that Ulster Scots should get a say in the Scottish independence referendum it provoked a bemused response from nationalists.
Wasn't he in danger of setting a precedent his fellow unionists would not want applied to the Irish diaspora in any future border poll?
However listening to Tuesday's Radio 5 Live Nicky Campbell "Your Call" programme David Hume's viewpoint didn't seem quite so eccentric.
There was no shortage of people resident outside Scotland who thought they should have a say, either to express their belief in the benefits of the Union, or to wish the Scots good riddance.
Professor John Curtice from Strathclyde University reminded callers that the UK is a voluntary union and that the 1973 Northern Ireland border poll had established the precedent that only those living within a part of the UK should have the right to decide on whether it should secede.
This is accurate, although advocates of holding referenda elsewhere in the UK might have pointed to 1998, when two polls were held concurrently on the Good Friday Agreement on either side of the Irish border.
Independent neighbour
The Radio 5 phone-in was counter-factual, as there will be no poll in England, Wales and Northern Ireland.
But it pointed to a potentially real consequence of any pro-independence Scottish vote in 2014, namely that the political and economic balance would feel very different within a rump UK.
Would English taxpayers continue to be happy to subsidise Northern Ireland, if it's somewhere off the coast of an independent neighbour?
Would the DUP's Gregory Campbell be so bullish in rubbishing Enda Kenny's talk of a United Ireland if the UK's constitutional stability was shaken by developments elsewhere?
On BBC Radio Ulster's Inside Politics at the weekend, Martin McGuinness argued that the decision to lower the voting age for the Scottish referendum should be adopted in any future border poll.
Given the different age profile of the nationalist and unionist communities, Sinn Fein's position is no surprise.
Border poll
In the event of a "no" vote in Scotland, unionists might argue that other aspects of the Scottish poll should be adopted in Northern Ireland, such as the pledge that it will be a "once-in-a-generation" decision.
By contrast the Good Friday Agreement provides for a border poll every seven years.
PS Whilst we all have around two years to wait for Scotland's "day of destiny", a rather less historic vote is due in Mid Ulster in the New Year.
On Inside Politics, Mr McGuinness told me that he would tender his resignation as MP in the "coming weeks" triggering a by-election, probably in the spring.
The deputy first minister responded scornfully to Martin Galvin's advice that Sinn Fein should stand aside in Mid Ulster for a candidate campaigning for the release of Marion Price.
Moreover, when preparing for my interview, Marion Price's husband, Jerry McGlinchey, told me the family did not want anyone to stand on her behalf.
If that's the case, then one would assume there's little point unionists pondering the prospect of a unity candidate in Mid Ulster, as Sinn Fein's hold on the constituency would appear virtually unassailable.