RQIA inspectors revisit five out of six NI hospitals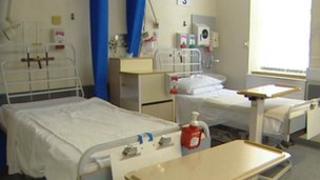 Five out of Northern Ireland's six largest hospitals have required follow-up inspections from the Regulation Quality Improvement Authority (RQIA).
The RQIA inspectors' overall focus was on hospitals with A&E facilities, psychiatric wards, and those with cancer care and brain injury units.
Belfast's Royal Victoria, Belfast City, the Ulster, Altnagelvin and Craigavon Area were all revisited by RQIA staff.
Antrim Area was the only large hospital to be given a clean bill of health.
The RQIA is the independent body responsible for monitoring and inspecting the availability and quality of health and social care services in Northern Ireland.
'Unacceptable'
During their hospital visits, RQIA inspectors found that some clinical areas failed to have automated or elbow-operated taps, despite last year's pseudomonas outbreak which claimed the lives of four babies.
Dirty taps were found to be partly to blame for the outbreak.
Inspectors also found an unacceptable degree of lime scale in some sink areas.
While overall hospitals in Northern Ireland were found to be are a lot cleaner, there is still room for improvement according to the RQIA.
Of the four wards visited in Belfast's Royal Victoria Hospital, all four had to be revisited in a follow-up inspection.
Three out four wards were checked again at the Ulster Hospital in Dundonald, two out of four wards at Belfast City Hospital were revisited and one ward was rechecked in both Craigavon and Altnagelvin.
While only one ward was inspected at Longstone Hospital in Armagh, inspectors were not satisfied and returned for a follow-up inspection.
Dirty mattresses
The criticisms included that there was a lack of a robust monitoring system by the appropriate staff.
This meant patients and families could not be assured about the level of cleaning taking place.
Some wards had dirty, bloodstained mattresses while older buildings often had cracks and crevices which were, according to the inspectors, reservoirs for bacteria.
Announced inspections of endoscopy units in independent facilities including the North West Independent Hospital and the Ulster Independent Clinic all complied with current standards.