Arlene Foster leading IRA victims' delegation for Dublin meeting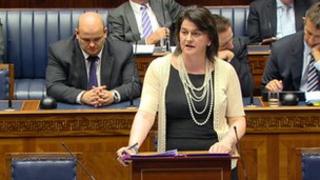 DUP minister Arlene Foster is leading a delegation of IRA victims to Dublin to press the Irish government on its failures during the Troubles.
The group is seeking a formal acknowledgment that previous Irish governments "failed to protect life within border communities".
Families and members of a Lisnaskea-based victims group are meeting the Irish Prime Minister, Enda Kenny.
Mrs Foster said it was a "privilege" to lead the group to "tell their story".
"Their stories are not only harrowing but they highlight the lack of adequate security provision on the Republic of Ireland side of the border during the troubles," she said.
"These were attacks often planned from within the Republic of Ireland by people from the Republic, and returning there afterwards meant the terrorists were provided an effective 'safe haven'."
Five families as well as representatives from the Lisnaskea-based victims group South East Fermanagh Foundation (SEFF) are at the meeting at Government Buildings in Dublin.
"Innocent victims within County Fermanagh have waited a long time for a meeting to take place where they will have the opportunity of presenting to the government of the Irish Republic the truth of what occurred throughout the county over a 30-plus year period," said SEFF spokesman, Kenny Donaldson.
Failures
Last month, Mr Kenny told relatives of the 10 men killed in the 1976 Kingsmills massacre in County Armagh, he could not apologise for the IRA.
Mr Donaldson said: "We are not going to Dublin demanding that the Taoiseach apologises for the actions of the IRA.
"What we will be seeking is an acknowledgement that successive administrations in the Republic and its security forces failed to properly protect life along border corridors."
A DUP motion at Stormont last month called on the Irish government to apologise for its alleged role in the emergence of the IRA.
It was passed by 47 votes to 46.
During the debate, Mrs Foster said: "We do ask them (the Irish government) to acknowledge both their acts of commission in relation to collusion and their acts of omission in not seeking to secure the border of Ireland."
She said the apology "must have reference to and acknowledge the ethnic cleansing" which took place along the Irish border by the Provisional IRA.
SEFF also said that the Republic's record in dealing with extradition cases was "unacceptable".
"Belatedly the Taoiseach has an opportunity to do right by those families that our organisation represents and indeed all others across Northern Ireland who were affected as a consequence of there not being 'sufficiently robust policies in the Republic of Ireland' to not only pursue but also bring to justice, terrorists," said Mr Donaldson.
"Had there been previously, how many lives could have been spared?"