NI boundary review sees Ballymena move to South Antrim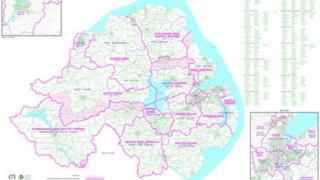 Ballymena will be moved into a new enlarged South Antrim constituency under revised proposals from a Westminster boundary review team.
However, it seems unlikely planned cuts in the number of local constituencies will go ahead as the Liberal Democrats have withdrawn their support.
Despite the developments in London, the NI review team will continue its work.
The local boundary review has already cost over £500,000 to but the figure is likely to rise to nearly £900,000.
After the Conservatives and Liberal Democrats agreed to form a coalition, the government announced plans to reduce the number of MPs from 650 to 600.
But the deal unravelled and now Nick Clegg has said his MPs will vote the plan down.
In their latest report, the boundary commissioners stick by their controversial proposed abolition of the South Belfast seat.
However, they have made changes in Antrim, moving Ballymena into South Antrim, renaming North Antrim as Coleraine and North Antrim, and replacing a suggested Mid Antrim seat with an East Antrim constituency.
Given the politics at Westminster, there is a big question mark over whether these plans will ever become reality.