Millie Martin murder: Trial told baby died from head injury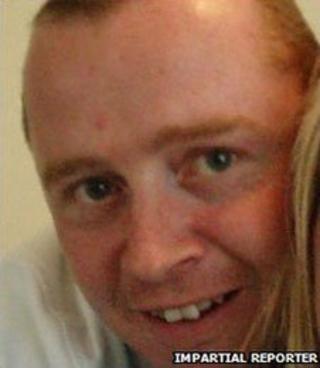 The County Fermanagh toddler Millie Martin died of a severe injury to the back of her head, the child's murder trial in Dungannon has been told.
It was hearing evidence from the state pathologist, Prof Jack Crane, who carried out a post-mortem examination on the child who died in 2009.
The injury was sustained shortly before she was admitted to hospital, he said.
Barry McCarney denies murder and sexual assault while Millie's mother, Rachel Martin, denies allowing her death.
Giving evidence at Dungannon Crown Court on Monday, Prof Crane said he believed the head injury which resulted in Millie's death had been caused by an impact against a hard surface, such as a wall or floor, and led to a rapid loss of consciousness.
He said Millie had been recently sexually assaulted.
The pathologist told the trial there was also evidence of multiple injuries sustained up to four weeks before she died, including fractured ribs caused by being forcibly grasped or squeezed.
Prof Crane added that Millie had abdominal bruising, both recent and several weeks old, which he said was a result of prodding or punching.
Earlier on Monday, Millie's mother wept as phone footage of her child dancing was played in court.
Rachel Martin had used her mobile phone to film the 50-second video clip of her daughter dancing just three days before her death in December 2009.
The footage was filmed at Millie's grandmother's house and in the video clip Millie could be seen with her step-grandfather, Noel Graham, dancing to a mobile ring tone.
Mr Graham told the court that his step-daughter, Rachel Martin, was a very good mother at all times.
He said the day Millie was filmed dancing she was in exceptionally good form and she knew she was the centre of attention.