Narrow Water bridge gets go-ahead from Irish planners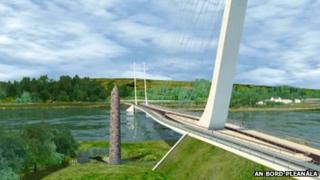 Irish planning authorities have given the go-ahead for a new bridge to be built at Narrow Water between County Louth and County Down.
An Bord Pleanála gave planning permission to Louth County Council for the construction of the bridge across the Newry river channel.
NI Environment Minister Alex Attwood last week granted planning permission for the project.
The single lane cable bridge will be 660 metres long and cost 18m euro.
'Reasonably confident'
The fact that planning permission has been granted by authorities on both sides of the border has moved the project to an advanced stage.
The project is one of 12 seeking a share of a 30m euro EU fund and Louth County Council said they hoped the bridge would be opened in 2015.
A spokesman for Louth council said they were "reasonably confident" that funding would be granted.
He said it was hoped the outcome of the funding application would be known later this year or early next year.
Construction could then begin in 2013 with the bridge being completed in mid-2015.
The Irish government has already spent 900,000 euro on the project so far.