Plan aims to cut fine jail terms in Northern Ireland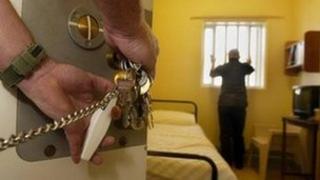 A new scheme is being introduced to reduce the number of people sent to prison for failing to pay fines.
Offenders will be able to take part in community work or training instead of going to jail.
More than 2,000 people were sent to jail in Northern Ireland last year for failing to pay fines.
A six month pilot scheme in Newry and Mourne resulted in 36 people who would have been sent to prison opting for a Supervised Activity Order.
They carried out work in the community instead.
That scheme is now being extended until February, and a new pilot scheme is being introduced in the Lisburn area.
The activity orders are for adults facing fines of up to £500.
Justice Minister David Ford described the results of the first pilot scheme as encouraging, and said the system may be introduced throughout Northern Ireland.
"If we are able to extend these orders across all of Northern Ireland, then we would see a significant decrease in the numbers ending up in prison for fine default," Mr Ford said.
"Before we can consider that, I am launching a second pilot and the results from both will be subject to a full evaluation."