Dangers of fuel waste highlighted by a new campaign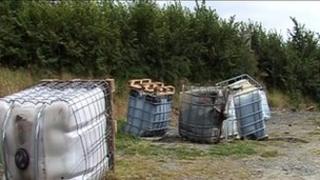 The Environment Minister Alex Attwood has launched a campaign to highlight the dangers posed by dumping fuel laundering waste.
The initiative by the Department of Environment and Crimestoppers aims to encourage people to report those involved in the practice.
The illegal dumping of fuel laundered waste is an issue for authorities on both sides of the border.
Mr Attwood said it was a crime that "affects us all".
"Not only does it damage and pollute the environment, but disposing of the waste is a significant drain on our resources, diverting money from other services such as roads, hospitals and schools," said Mr Attwood.
"Reckless criminals are polluting our land, our air, our water and our wildlife, as well as risking our health. The key to stopping this dumping lies in obtaining information on the people who do it.
"Hardly a week goes by without one of these incidents and so I am asking everyone to help us stop this crime.
"If you see this waste being dumped, please tell us whatever you can - where, when, how much, and who. You can report dumping of fuel laundering waste, completely anonymously, to Crimestoppers on 0800 555 111.
"We owe it to future generations to do what we can to stop this poisoning of our environment."