Amnesty International attacks justice and security bill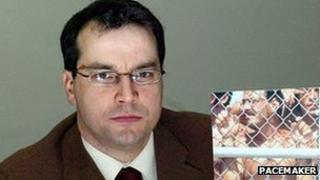 Government plans for more secrecy in British courts could reduce the ability of people in Northern Ireland to hold the security forces to account, it has been claimed.
An Amnesty report is strongly critical of the Justice and Security Bill.
The government said it was necessary to protect sensitive information where people have brought cases against the intelligence and security agencies.
However, Amnesty said it could harm public confidence in the rule of law.
The bill is due to be debated in the House of Lords in the coming weeks.
If the proposal becomes law, security-vetted lawyers, known as Special Advocates, would represent a claimant in secret "closed material procedures".
'Conflict legacy'
Government ministers said the procedure would allow evidence to be tested before a judge without disclosing the information to a claimant or the public.
However, Amnesty International NI's Patrick Corrigan said: "There are a range of civil proceedings in Northern Ireland dealing with the legacy of the conflict which might well be affected by the introduction of 'secret evidence'.
"These include judicial reviews of investigations into conflict-related deaths by the PSNI, the Historical Enquiries Team and the Police Ombudsman, as well as civil actions for damages relating to ill-treatment and unlawful killings.
"If introduced, these 'secret evidence' measures could contribute towards a dangerous unravelling of public confidence in the justice system in Northern Ireland."
A government spokesperson said that Amnesty had missed the point "that currently, no-one, not the claimant, not their lawyers, nor the judge, can take into account or rely on national security sensitive evidence".
"The result is that cases collapse and we never get to the bottom of serious allegations made against the state.
"The Justice and Security Bill will fix this problem by allowing the national security evidence which is excluded under current rules to be heard in a closed procedure. Closed justice is never ideal, but it is better when the alternative is silence.
"The Bill will increase scrutiny of the security and intelligence agencies by ensuring that civil cases which are currently not heard, will be heard; and that allegations which are made against the government are fully investigated and scrutinised by the courts. Nothing that's currently heard in open court will be heard in secret in future."