DNA records retention challenged in Belfast test case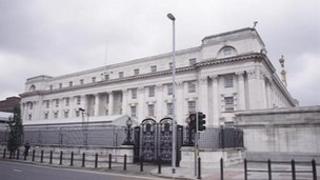 A legal challenge to the retention of DNA samples by police in Northern Ireland could have repercussions across Europe, Belfast High Court has heard.
The test case has been brought by convicted drink driver Fergus Gaughran.
His lawyers argued DNA profiles and fingerprints of those found guilty of lesser offences should not be retained.
They want a European ruling which found it was unlawful to hold samples from people arrested but later acquitted to be extended to cases like Gaughran's.
'Destruction'
Newry-based solicitor Paul Fitzsimons predicted potentially huge consequences if the judicial review challenge succeeds.
He said: "If there is a judgment upholding our client's position it could lead to the destruction of vast amounts of police records built up in Northern Ireland, the United Kingdom and throughout Europe."
Mr Fitzsimons issued legal proceedings on behalf of Gaughran, who was stopped at a police checkpoint in Camlough, County Armagh three years ago.
Gaughran failed a breath test and was subsequently convicted and disqualified from driving for a year.
He is challenging the police decision to also take and retain fingerprints, a DNA sample and photograph during his detention.
'Violation'
It was claimed that this process breached his right to privacy.
The European Court of Human Rights has already held that keeping samples from those who are not ultimately convicted is a violation of their rights.
A new criminal justice bill is expected to include a change in the law to reflect that ruling.
Gaughran's legal team argued that principle should be extended to cases involving relatively lesser offences such as drink driving.
They contended that it is wrong to apply a blanket retention policy, and that the state should discriminate due to the seriousness of the offence.
According to records there are some 700,000 fingerprints and 123,000 DNA samples on the database in Northern Ireland alone.
Speaking outside the court Mr Fitzsimons claimed: "It was apparent to me that the only purpose in taking DNA samples, fingerprints and photographs when the police have already confirmed the crime, having obtained the evidential breath samples, was to build up a database of intelligence.
'Recordable offences'
"Our case is that the collection of this information and the indefinite retention on the police computer systems is unlawful."
However, lawyers for the Police Service of Northern Ireland (PSNI) have argued that the same principle should not apply for so-called recordable offences which potentially carry prison sentences.
They insisted there has been no inappropriate interference with the right to privacy.