Teen trouble the focus in new series of Fix My Family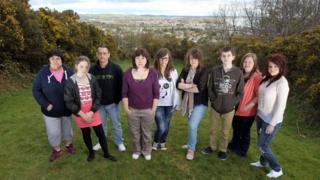 Parenting is one of those things that we're all expected to know how to do but for most of us it's a sharp learning curve.
This can be especially true once children start approaching adulthood.
What we discovered when making the new series, Teen Trouble: Fix My Family, is that when things go wrong, both parents and teens can find themselves in a lonely place.
As a parent, it seems it can be hard to admit that you may have made mistakes and ask for help.
And as a teen, although they may claim something is anyone's fault but their own, we discovered that they can also blame themselves for the situation they find themselves in.
We knew from the offset that it would take a brave parent and teenager to come forward and ask for help.
It is one thing to take the step and admit there is a problem but to agree to do it on camera is another thing altogether.
Thankfully a few brave families did come forward and signed up for a week-long retreat in Newcastle, County Down.
Fourteen-year-old Chloe joined us with mum Cathy and stepdad Bernard (also known as Beano).
Chloe has been diagnosed with Attention Deficit Hyperactivity Disorder (ADHD) and she found it hard to concentrate and control her temper.
Both Cathy and Beano wanted to change their relationship with Chloe for the better.
Siobhan, meanwhile, was desperate to rekindle her relationship with her daughter Ciara, her middle child.
Ciara was probably typical of many teenagers; uncommunicative and sullen with her mum and spending all her time with a large group of friends.
Harmony
Siobhan was also concerned about Ciara's behaviour and that she may not always be telling the truth about her whereabouts.
Andrea and her three teenagers Naomi, Rachel and Josh also joined the retreat.
Tensions had been running high in the family for a few years and arguments - often resulting in physical violence - were common between the two girls.
Andrea and Josh, meanwhile, felt they were stuck in the middle.
Our hope in making this series was that by taking the families out of their usual routines and giving them time, space and access to our experts, they could identify what had gone wrong and start to fix it.
While all the families had different issues, when they met each other they discovered they also had a lot in common.
This, for me, was an important part of the series, both for the families taking part and audience at home: that knowledge that you're not alone, that you haven't 'failed' and that there's help at hand.
For the families taking part, that help came in the shape of our resident health and wellbeing expert Amanda Hamilton.
She was supported by our two clinical psychologists; Dr Rachel Andrew, who would work with the young people and offer a safe environment for the families to work as units; and Dr Raman Kapur who would work with the adults both in group and individual sessions.
Throw in a daily dose of team-building and confidence-boosting physical activity and some parenting-specific consultations and you have the framework for a mentally and physically challenging retreat.
With sensitive family issues there is never going to be a quick fix scenario but witnessing each family start to work together as a unit during the week was remarkable.
Channels of communication were opened, feelings were discussed, new understandings were reached and smiles and hugs were exchanged.
It seems when people are given a voice and feel they are being listened to, things can actually start to move quite quickly.
Each family member worked at improving their own situation and, bit by bit, they each helped to restore some harmony to their household.
They all went home with new ideas and new skills to help them keep improving their situation.
While it isn't easy being a parent or a teenager, I hope this series shows people that there really are ways to make it that little bit easier.
Teen Trouble: Fix My Family starts on BBC One Northern Ireland on Monday, 15 October at 19:30 BST.