Controversial loyalist band members arrested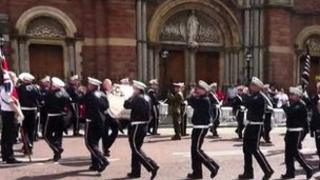 Members of the loyalist band filmed marching in circles outside a Catholic church in Belfast have been arrested.
The Young Conway Volunteers flute band were videoed playing contentious tunes outside St Patrick's Church in Donegall Street on 12 July.
Police said 11 males, aged between 15 and 42, were arrested on suspicion of provocative conduct. Three others were also interviewed by police.
All 14 were released pending a report to the Public Prosecution Service.
The 11 were all arrested in the north Belfast area.
All the males were also interviewed regarding a breach of the Parades Commission determination in the Donegall Street area on Saturday 25 August.