Rathcoole parents concerned at approaches to children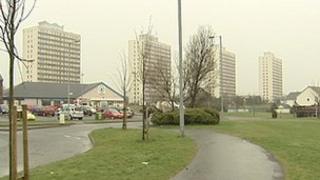 Police say four reports of suspicious approaches to children in a County Antrim estate have been made to them since the start of the month.
All of the reports have been in or around Newtownabbey's Rathcoole estate.
The latest happened on Wednesday evening, when a man driving a dark blue van approached a 10-year-old boy.
Police have said they cannot confirm if the incidents are linked as yet because the children have given differing descriptions of those involved.
The 10-year-old, who was approached by the van driver on Tulleevin Walk on Wednesday, ran away and the man drove off.
Detectives are also investigating three similar incidents last week.
A mother, who did not want to be identified, told BBC Northern Ireland her nine-year-old son was one of the children who were approached.
She said he was on his way home from the local youth club at the time.
"A man pulled up in a car and spoke to him, asked him if he wanted to go bowling and they could go and get ice cream afterwards," she said.
"Thankfully he had the sense to run."
The mother said the experience had badly affected her son.
"He has been absolutely petrified to go out the front to play.
"He has been wakening up in the middle of the night crying because he thinks the man is going to know where he lives," she said.