Connswater Community Greenway: Stormont allocates £6m to prevent flooding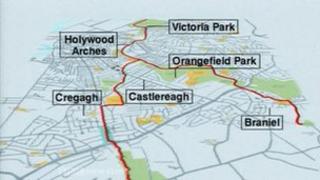 Stormont ministers have agreed to spend £6m to protect up to 1,700 properties from flooding in east Belfast.
The money will be used to include flood alleviation works as part of the £32m Connswater Community Greenway project.
The ongoing project aims to reduce flooding and create a 9km "linear park" following the lines of the Knock, Loop and Connswater Rivers.
Agriculture Minister, Michelle O'Neill, said she secured the money after talks with Finance Minister, Sammy Wilson.
Minister O'Neill said: "I have seen, at first hand, the impact that flooding has had and this is great news.
'Disruption'
"My department, through Rivers Agency, will be overseeing the delivery of a substantial programme of works, in partnership with Belfast City Council", she added.
The construction work is due to begin next year.
The Department of Argiculture said that, in addition to the £6m scheme announced on Thursday, Rivers Agency was also carrying out £5m worth of "stand-alone work in the area to reduce the risk and potential disruption from flooding".
The Connswater Community Greenway project stretches from Belfast Lough to the Castlereagh Hills.
The project team plans to clean up the rivers, build or improve 30 bridges, and create a 9km riverside pathway for walkers and cyclists.
The scheme has been developed by the East Belfast Partnership and is funded by the Big Lottery Fund, Belfast City Council and Stormont's Department for Social Development (DSD).