Suzanne McTurk helps launch beauty guide for cancer patients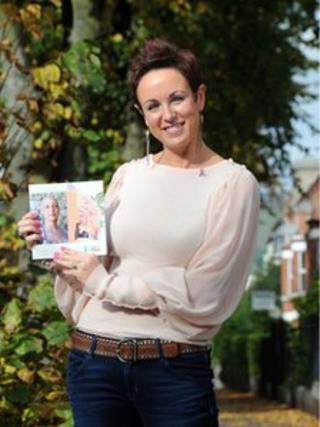 For cancer patients and survivors, being able to feel good about how they look can help to ease the emotional impact of the illness.
That was the message from the Cancer Focus Northern Ireland charity as it launched a new guide for patients on how to manage the effects of cancer treatment on their appearance.
Suzanne McTurk, from Moira, had to deal with the physical side-effects of her treatment when she was diagnosed with breast cancer four years ago, at the age of 34.
"It was a complete shock, there was no history of breast cancer in my family and it was diagnosed just as a result of me finding a lump," she said.
Suzanne said it was a devastating diagnosis for herself, her husband and her whole family to deal with.
She was sent for chemotherapy and radiotherapy treatment a short time later, which had an almost instant effect on her appearance.
"Hair loss was the first thing that I had to deal with," she said.
"I had quite long hair and I decided to get it cut very short at the start of my chemo so that when it started to fall out it was less traumatic.
"Actually I had a bit of fun with it, because I probably enjoyed the extreme haircut that I would never of had."
Suzanne is keen to point out that cancer patients are not just dealing with the effects of hair loss but are faced with a range of physical side-effects.
"People tend to forget that you lose your eyebrows and your eyelashes and that can really make your face look quite different," she said.
"Over the period of my chemotherapy I picked up some tips myself because I'm quite good at make-up techniques in terms of how to fill in my eyebrows and trying to maintain my eyelashes," she said.
'Emotionally positive'
"A Guide to Looking your Best" from Cancer Focus Northern Ireland provides patients with advice on hair loss and caring for your scalp, wigs and wig maintenance, camouflaging scars and masking red marks.
It contains details on skin care during radiotherapy and a guide to applying eye make-up and creating eyebrows.
The guide also provides skincare advice for men who are being treated for cancer.
As a young woman dealing with cancer, Suzanne felt it was important that she tried to look her best.
"It really helps not just yourself but your partner and your family. I know I became quite comfortable with my baldness and my bald head quite early on in my chemo but you're almost trying to protect other people from seeing you like that.
"I found that a lot of my friends and family felt maybe a little bit uncomfortable with seeing me like that because it's such a very tangible reminder of your cancer, your diagnosis and the treatment that you're going through."
Suzanne believes the new guide would have been a great help to her at a time when she was fighting to remain "emotionally positive".