Diesel laundering plants raided in Cullyhanna and Middletown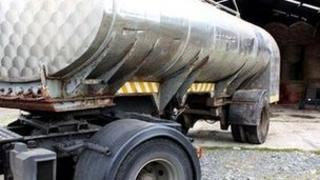 Two diesel laundering plants, together capable of producing over 15 million litres of illicit fuel a year, have been discovered in County Armagh.
Customs and police officers uncovered a laundering plant hidden in a shed at a house in Cullyhanna on Wednesday.
In a separate search, a second plant was found beside a house in Middletown.
Three tonnes of toxic waste and 1,000 litres of illicit fuel were discovered at the two sites.
A tanker, pumps and equipment were seized.
Officers also seized computers from the house in Cullyhanna.
Beth Smith, HM Revenue and Customs, said: "Every illegal laundering operation has significant environmental and safety issues.
"These operations typically generate tonnes of toxic waste, which is often dumped indiscriminately in the countryside.
"So as taxpayers and local ratepayers, not only are we missing out on the tax, which is going into the pockets of the criminals, we are also paying the substantial clean up and disposal costs."