East Belfast sees seven suicides in 10 days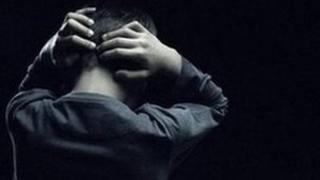 An east Belfast group that helps people affected by suicide says seven people have taken their own lives in the area in the last 10 days.
The Survivors of Suicide Support Group said the stigma surrounding the issue meant it was being under-reported.
The group's Claire Curran said politicians, churches and the community must come together to get support for those affected.
She said east Belfast had had an issue with suicide for a long time.
"People in east Belfast don't tend to talk about suicide, they don't make a noise, they don't shout, because of the stigma that's attached," Ms Curran said.
She said communities in north and west Belfast had been been able to put their case for help across much more forcefully.
"We don't get the same support in east Belfast, or south Belfast, from the politicians, MLAs or churches that they do in north and west," she said.
"Communities in north and west Belfast have come together, they are one voice, they are asking for help together - they are pushing the issue forward. In east Belfast that's not happening."
She said east Belfast had no drop-in centres for suicide prevention help and resources were not available to set one up.
"There is one paid worker for suicide prevention in east Belfast. That's not enough to cover the work that needs to be done," Ms Curran said.
"We need churches, politicians, community groups and people generally in east Belfast to come together to work and talk with one voice to get the support that is needed."
Ms Curran said that as well as the stigma that surrounded suicide, there was an issue around some of the people who had taken their own lives.
"Some ex-paramilitaries, who are having difficulties coping with their previous lives, when they take their lives people don't tend to be as understanding," she said.
"But they have families, they have children who are affected and the effect of suicide is not short-term, it's long-term, it lasts for years."